Shareholder Dividends and Incentives
Dividends
In allocating profits, the Company's policy is to continue to provide stable dividends while considering earnings and dividend payout ratios and also setting aside internal reserves to maintain and strengthen the Company's business structure. The Company's basic policy is to use retained earnings to pay dividends once a year at the end of the fiscal year. Decisions on the distribution of retained earnings are made at the general shareholders'meeting. The Company changed the number of shares that constitute one unit from 1,000 to 100 shares on October 1, 2017, and consolidated five shares into one share at the same time. As a result, the number of shares held by shareholders will decline by one-fifth, but the Company plans to consider the consolidation ratio when setting dividends per share after the effective date of this share consolidation. As a result, barring other factors such as earnings volatility, the share consolidation will have no impact on shareholders' total dividends received. However, dividends will not be paid on fractional shares resulting from the share consolidation.
Historical Data of Dividends
Date of resolution
Dividend amount
per share (yen)
Payout ratio(%)
FYE March 31, 2020(Forcast)
60
15.2
FYE March 31, 2019(Scheduled)
55
19.4
June 28, 2018
Resolution at 95th General shareholders' meeting
50
15.7
June 29, 2017
Resolution at 94th General shareholders' meeting
45
16.9
June 29, 2016
Resolution at 93rd General shareholders' meeting
35
16.4
June 26, 2015
Resolution at 92nd General shareholders' meeting
35
41.5
June 27, 2014
Resolution at 91st General shareholders' meeting
35
35.7
EPS (net profit per share), Payout Ratio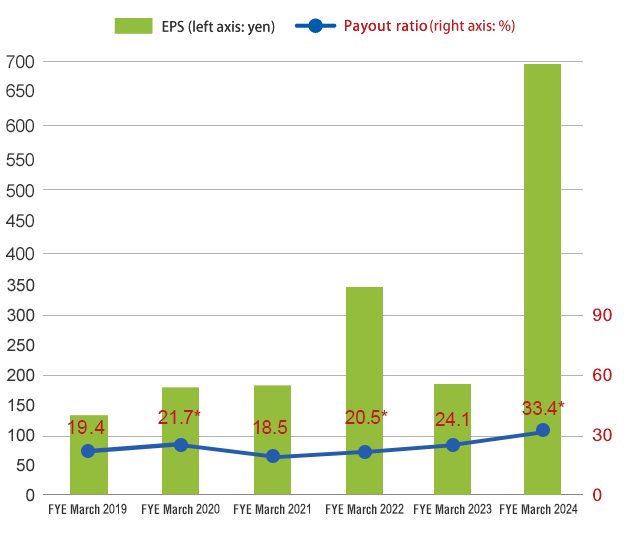 Shareholder Incentive Program
The Company offers a shareholder incentive program with the aim of deepening understanding of our products as well as showing appreciation to those shareholders who always support the Company.
The Company sends Company products commensurate with the number of shareholdings to those shareholders who are listed in the shareholder registry as of September 30 of every year and hold 100 or more shares (one unit) between late November and early December.
We amplified the shareholder benefit program in 2018 to better recognize the support of more shareholders and also enhance the appeal of the Company's shares for more people.
Please refer to the Notification about amplification of shareholder incentive program issued on January 17, 2018 for more details.
Shareholder Incentives
Number of shares held:100-199
Products sent:6 blocks of Company product Morinaga Silken TOFU (value equivalent to 870 yen)
Number of shares held:200-499
Products sent:12 blocks of Company product Morinaga Silken TOFU (value equivalent to 1,740 yen)
Number of shares held:500 or more
Products sent:A combination of Company products with a value equivalent to 3,000 yen (including six blocks of Morinaga Silken TOFU)
Example of a product bundle:Shareholders with 500 or more shares are eligible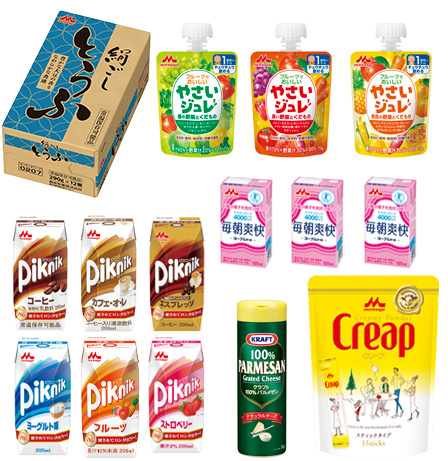 Column
Morinaga Silken Tofu, a Shareholder Gift
Tofu is very nutritious, inexpensive and delicious. The only downside is that it does not last long. However, the Company uses its manufacturing technology for aseptic packaging of milk in cardboard packages and its own long-life manufacturing methods applying packaging technology to make Morinaga Silken Tofu, which has a long life of 10 months even though preservatives and antiseptics are not used.
This tofu is made with carefully selected whole soybeans that have not been genetically modified. The patented manufacturing method for Morinaga Milk eliminates the grassy smell of soybeans and instead offers a rich, smooth taste with a fragrant and delicious tofu that brings out all of the inherent sweetness of soybeans.